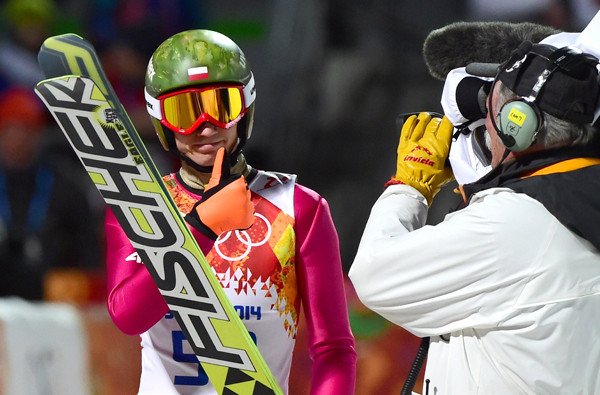 Ski jumper Kamil Stoch completed a gold medal sweep of the normal and large hills in the Sochi Olympics on Saturday in a close tussle with 41-year-old Noriaki Kasai of Japan.
The Polish jumper joins Simon Ammann and Matti Nykanen as the only men to win both individual events at the same Winter Games.
Peter Prevc of Slovenia, who took silver in the normal hill, earned the bronze Saturday.
Jumping last in the first round after the trial round was canceled due to fluctuating winds, Stoch jumped 139 meters and totaled 143.4 points to give him a three-point lead over Kasai, a margin the Japanese veteran whittled down to 1.3 points after the final round.
Kasai, whose first Olympics was at Albertville, France, in 1992, was trying to become the oldest gold medal winner at any Winter Games.
Gregor Schierenzauer of Austria, who won bronze on both the normal and large hills four years ago, finished seventh.
Amman, the defending champion from 2010 — he also won the normal hill that year in Vancouver — had a chance to win a record fifth Olympic gold medal. But the 32-year-old Swiss jumper, who has said he will likely retire soon, never looked the part in training or on Saturday and finished 23rd.
"It's hard preparing for three years … I have to take it easy for the rest of the season," Ammann said. "It's not the greatest feeling right now."
Thomas Morgenstern of Austria, who had a bad crash in early January and was touch-and-go to be fit for Sochi, failed to qualify among the 30 advancing to the final round, finishing in 40th place.
"I had a good feeling on the in-run and the takeoff, but it was strange, there was wind from the front and back," Morgenstern said. "Today I had no luck."
Three Americans who qualified for Saturday's final -- Nicholas Alexander of Brattleboro, Vt., Anders Johnson of Park City, Utah, and Nicholas Fairall of Andover, N.H. -- didn't make it to the second round. Fairall was 35th, Alexander 48th and Johnson was disqualified — along with Canadian Matthew Rowley — for suit violations.
http://www.latimes.com/sports/olympics/olympicsnow/la-sp-sochi-olympics-kamil-stoch-ski-jumping-20140215,0,1212268.story#axzz2tRXIf0X2
Poland's Stoch leads men's large hill competition
Poland's Stoch leads men's large hill competition
ROSA KHUTOR, Russia Sat Feb 15, 2014 2:02pm EST
0 COMMENTSTweet
inShare
Share this
Email
Print
Poland's Kamil Stoch soars through the air during the first round of the men's ski jumping large hill individual final of the Sochi 2014 Winter Olympic Games, at the RusSki Gorki Ski Jumping Center in Rosa Khutor, February 15, 2014.
CREDIT: REUTERS/KAI PFAFFENBACH
(Reuters) - Poland's Kamil Stoch was leading the Olympic men's ski jumping large hill event after the first round at the Sochi Games on Saturday.
Stoch, seeking to become only the third man to win both individual hills at the same Olympics, jumped 139 meters to lead with 143.4 points. The 26-year-old Polish world number one won the normal hill on Sunday.
Japan's Noriaki Kasai also jumped 139 meters but earned less style marks and was on 140.6 points. Germany's Severin Freund was in third on 140.2 points.
Defending champion Simon Ammann of Switzerland, who has had trouble with his take-offs from the start, was in 29th place.
http://www.reuters.com/article/2014/02/15/us-olympics-skijumping-half-idUSBREA1E0VZ20140215